yeah Assalamualaikum guys~
waddup? Lama tak update blog, blogwalking etc semualah. Hahaha. *bukan apa menikmati cuti yang dah macam tak cuti ni XD*. Pejam celik dah nak penghujung 2016. Ira rasa gerun tetiba heckkk~
Sebab apa? Bukan, next year Ira kene duduki SPM. yeah, Sijil Pelajaran Malaysia.
Nak tau juga pada akak-akak abang abang yang pernah jawab SPM dulu. And pada yang berjaya, share lah tips :D.
Tetiba teringat apa yang ibu dengan makcik-makcik Ira pernah cakap... "Macam kejap sangat tahun 2000 ni pergi. Tengok2, budak-budak lahir 2000an ni nak jawab SPM dah". Owh hahaha yeah 'budak' macam kami ni pon membesar juga~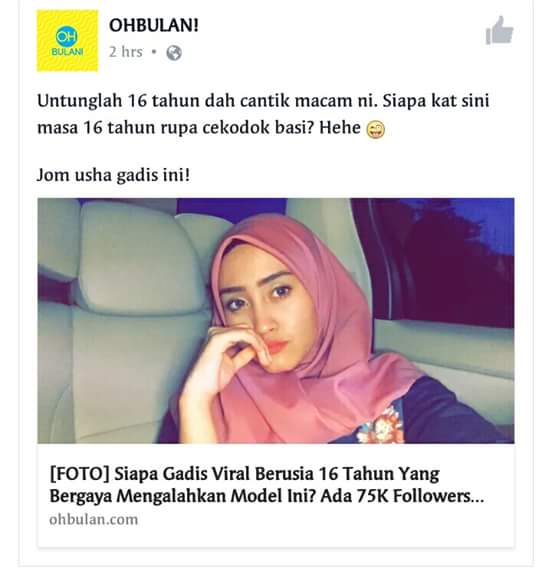 Hehh like seriously? Waktu tengok benda ni viral, Ira sikit pon tak terkejut tapi kecewa sikit tu adalah~ Iyalah, tak nafikan kami sebaya, 16 tahun. And pelik sangat ke budak2 sekarang pakai makeup, nak jadi lawa? Untuk pengetahuan korang, Ira ada ramai je kawan2 yang macam ni. At least Ira n kawan2 ada jugaklah melalui zaman selekeh tapi tu sampai Form 2 je lah~
yeah sebabkan benda ni viral, dengan kami2 ni sekali kena. Like wth iler lah. Yeah nak sedapkan hati, kami2 ni pun duk sepakat cakap "Diorang semua dengki". Respect giler kat Zakirah ni sebab dapat sabar lagi tengok comment 'heaters' tu semua XD. Kalau Ira tak tau lah boleh ke tak.
So pada 2000-liners yang lain, goodluck untuk SPM korang. Hopefully kita dapat result gempak and all the best...